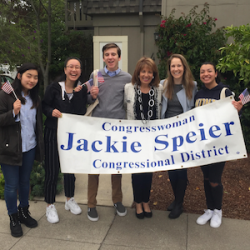 While at SF State, Samantha took part in the PLSI Department's internship program with Professor Jason McDaniel (PLSI 603/604) interning for Congresswoman Speier's district office. Afterward, Samantha participated in the Panetta Congressional Internship in DC. After graduating, Samantha's supervisor in Rep. Speier's office hired her as a staff assistant.
Advice for current and future PLSI students:
I struggled with impostor syndrome for most of my college career. I would often question whether I had chosen the right path or could compete with others in the field. Through my internship and employment opportunities, I've found that 1) you are not alone in having these doubts, and 2) people are often more than willing to help you succeed in this field. I would not be where I am today without the mentorship of my professors and staffers alike. I may sound like a broken record, but it's true. Take advantage of office hours, ask questions, and get to know your professors. The connections I made with individuals in our department are some of the highlights of my college career. Lastly, not all internships or opportunities are created equal, and that's okay. I found that internships I didn't particularly enjoy were just as helpful in finding my way because it's equally important to know what you don't want to do.