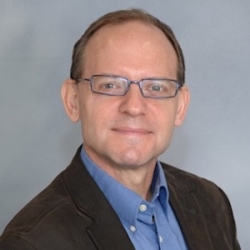 Phone: (415) 338-1720
Email: rhayduk@sfsu.edu
Location: HUM 226
Ron Hayduk teaches courses about American politics that examine immigration, inequality, political participation and social movements. Hayduk's published books include Immigrant Crossroads: Globalization, Incorporation, and Placemaking in Queens, New York (co-edited, Temple University Press), Democracy for All: Restoring Immigrant Voting Rights in the United States (Routledge), Gatekeepers to the Franchise: Shaping Election Administration in New York (Cornell University Press), Democracy's Moment: Reforming the American Political System for the 21st Century (co-edited, Rowman & Littlefield), and From ACT UP to the WTO: Urban Protest and Community Building in the Era of Globalization (co-edited, Verso).  
Hayduk has published academic articles in New Political Science, Cosmopolitan Civil Societies, the Journal of International Migration and Integration, Socialism and Democracy, Radical Teacher, and Dialectical Anthropology. Hayduk's work also appears in popular venues such as Calmatters, Jacobin, and the Los Angeles Times, and his research has been covered by the Washington Post, New York Times, Los Angeles Times, NPR, TIME, CNN, and other news networks. Hayduk's current research projects include a study of Participatory Budgeting in Bay Area jurisdictions, two studies of immigrant voting laws and practices (one historical, one contemporary), and a study of immigrant incorporation. 
Formerly a social worker, Hayduk previously worked in NYC government, consulted to policy organizations (Demos, Aspen Institute, Brennan Center), and served as an expert witness in court cases.  Hayduk serves on the Board of the North American Participatory Budgeting Research Board, the Editorial Board of Socialism and Democracy, and the Executive Council of the Western Political Science Association. Hayduk obtained his Ph.D. from the City University of New York (CUNY) where he taught before coming to SFSU in 2016.