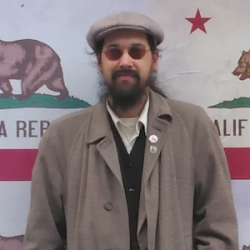 Michael Loebs
Lecturer Faculty
Phone: (415) 338-2247
Email: mloebs@sfsu.edu
Location: HUM 302
Office Hours:
Wed:
12:30 p.m. - 1:40 p.m.
Thu:
12:00 p.m. - 3:00 p.m.
via Zoom by appointment
Michael Loebs received an M.A. in Political Science at San Francisco State University following undergraduate studies at UC Berkeley and City College of San Francisco. Loebs' classes primarily focus on the development, tensions, and contradictions of "Western" political thought from ancient Greece to the present, training students to look with a challenging and critical eye at concepts from across the ideological spectrum.
Specific fields of interest include the relation between political theory and practice; democratic and anti-democratic thought; morality in politics, especially the role of political violence; gender and queer theory; the mutual interplay of conservative, liberal, and socialist ideology; and possible avenues of reforming California politics. As part of pursuing these interests, Loebs has taught in the Political Science department at SF State since 2013 and has also served as chairperson of the California National Party since 2019.