The Political Science SF State Scholars Blended Program (Undergraduate and Graduate) provides an accelerated route for students to enter a competitive workforce in government, law, business, teaching and/or to better prepare them for more advanced graduate training in doctoral programs and law schools.
Start your graduate work while still an undergrad! Through the Political Science SF State Scholars Blended Program students will be able to begin their advanced degrees early, allowing them to spend more time on specialized research, work more closely with SF State faculty, and save money and time covering the costs of an M.A. degree. The program may be done part time or full time.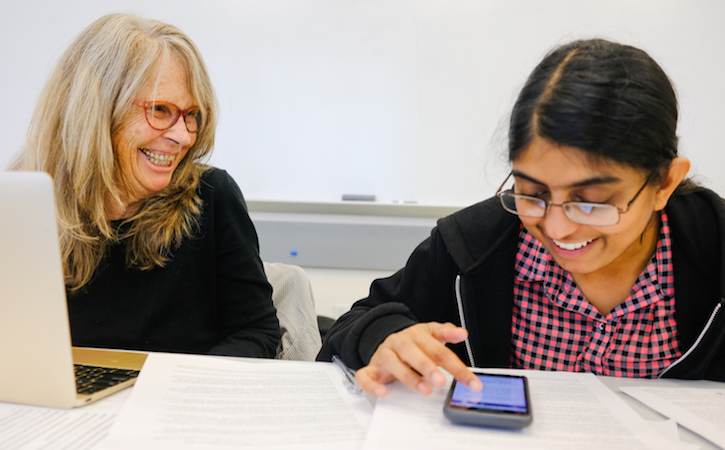 Admission Eligibility
Undergraduate students interested in an accelerated pathway to a graduate degree through the San Francisco State Scholars Blended Program must be sponsored by a faculty advisor in our program. Sponsorship must come from a tenured or tenure-track professor, who has taught the student in an upper division PLSI class. This does not require a letter, but the faculty member needs to be willing to testify to the applicant's ability to succeed in the program and their commitment to work with the student though the completion of the MA.
Admission to the SF State Scholars Program is a competitive process based on a number of factors. These include: students' intellectual maturity, ability to take and build on constructive criticism and feedback; demonstrated ability to contribute to creating a positive learning environment in the classroom; evidence of professionalism and professional ethics; strong writing and analytical skills; and readiness to transition to generating original knowledge as part of graduate work. Please note that students who meet the GPA criteria may not be admitted.
Students must have completed 18 units of core PLSI major coursework that includes PLSI 200, PLSI 250 OR PLSI 275, PLSI 304 or their transfer equivalents, PLSI 302GWAR and one upper-division PLSI class, with a cumulative PLSI GPA of 3.5 or above;
Students must have a minimum 3.0 cumulative GPA or 3.0 GPA in the last 60 semester units;
In general, students should apply to the program before they complete 90-105 semester units (consult with our advisors) and before enrolling in a senior capstone course.
Students must not be declared in another major or second baccalaureate.
Students must submit a San Francisco State Scholars Program application that includes a Planned Course of Study and responses to the requested short answer prompts.
Criteria for Student Continuation and Transition to Graduate Status
Students must maintain a minimum 3.3 cumulative PLSI GPA including graduate coursework to transition to graduate status. Progress toward degree is required. PLSI 700 must be taken first fall semester the student is admitted to the blended program.
Before applying to the SF State Scholars Program, students should meet with the SF State Scholars coordinator, Prof. Eissler (reissler@sfsu.edu) to discuss the program and its expectations, the student's goals, and the application process. This also offers students a chance to ask any questions they might have about their individual application. 
Students should then complete the SF State Scholars Application (PDF). In addition to the form, please submit a document with the following information:
List the names of all instructors in the PLSI department with whom the student has taken classes at SFSU and the courses taken with them.
A 250-to-500-word statement addressing the student's motivation for pursuing the master's degree.
A 250-to-500-word statement in which the student identifies a research question or topic in political science that they find interesting and might wish to pursue if admitted to the program.
Please submit the application, written statements, and unofficial transcripts to plsi@sfsu.edu.
When filling out the application, please refer to the B.A. in Political Science + M.A. in Political Roadmap (PDF). We will accept applications on a rolling basis.
Complete the SF State Scholars Application (PDF)
Submit application, statements, list of faculty and courses, and unofficial transcripts to plsi@sfsu.edu.
Refer to the B.A. in Political Science + M.A. in Political Roadmap (PDF)