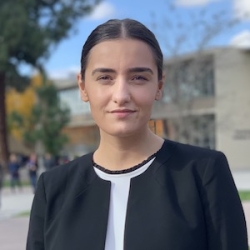 Yana works as a Paralegal at a law firm specializing in Employment Law (Discrimination, Sexual Harassment, Retaliation, Wrongful Termination, etc.). Yana also serves as the Assistant Coach of the SF State Moot Court Team, helping students in legal research and appellate advocacy.
Advice for current and future PLSI students:
Get involved! At a reasonably large University such as SF State, you need to find your community. My biggest advice is to reach out to your peers and professors and find ways to get involved in various extracurricular activities that the Political Science Dept. offers (Moot Court, PSSA, Internships/Externships, etc.). Participating in extracurricular activities empowers you to get real-life experience that you can't otherwise get in the classroom and enables you to network with peers and employers in the Bay Area. Furthermore, our Department has the most excellent, incredible professors. Don't be afraid to reach out to them. They will advise you and help maximize your academic and professional success post-graduation.